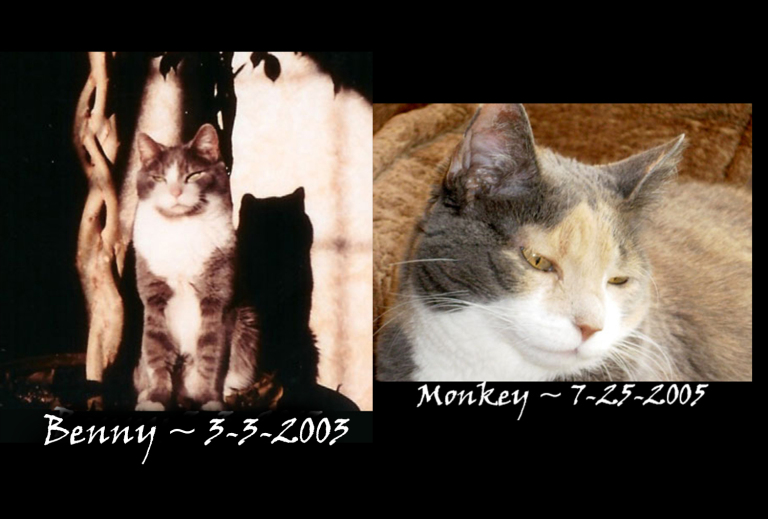 This adventure began with owner taking in two rescue cats named Benny and Monkey (pictured above). They shared beautiful memories together during their time here, and after they had passed, the owner was inspired to find a way to keep those memories alive so that her two cats could somehow still be here with her even though they had passed on. In the midst of dealing with this loss, she was able to come up with the idea of Paws2Heaven in 2003. She was inspired and determined to not only make products that were able to personalize her pets lives forever, but was also set on sharing these products with other pet owners, so that they too could find comfort in her products as well.
In addition to Benny and Monkey inspiring Paws2Heaven's product assortments, they also inspired the owner to begin the BenMonk fund. This fund was developed specifically to donate proceeds to rescue and adoption shelters. These proceeds assist in lowering adoption rates for animals in these shelters, so that they all have a better chance at receiving a warm and comforting homes which would enable them to live out the beautiful life that they deserve. Proceeds have been donated to local animal shelters here in Columbus, Ohio such as Cozy Cat Cottage and Cat Colony. Adoption rates for animals in these shelters range anywhere between $70-250.00 so our mission is to do the best we can in our donations to make is easier and more affordable to find these sweet animals a home.
Paws2Heaven offers products that range from marble etched urns, imprinted lockets, and  etched photo plaques, all with the purpose to cherish the life of your animal and allow their memory to be eternal….
"Until one has loved an animal, a part of one's soul remains unawakened."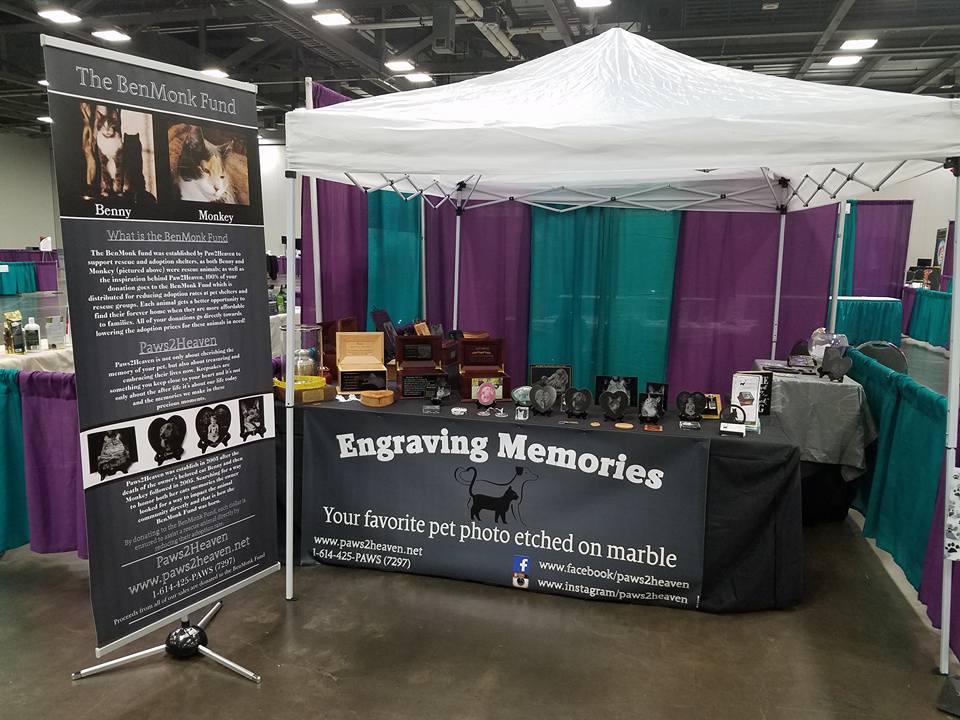 A keepsake is anything that you keep close to your heart. Keepsake Pet Urns that you personally design signifies and communicates how important your pet was in your life and the life of others.  Paws2Heaven's main focus is to support, guide and assist families in capturing the uniqueness of their fallen companion through personalized customization. Memorial keepsake urns not only mark closure to losing a four legged family member, they also celebrate the pet's life by marking its existence here on earth